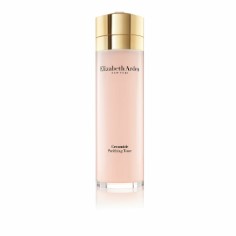 Ceramide Purifying Toner
A two-phase system that activates when shaken.Phase One (peach) contains botanical extracts: Chamomile, Sage, Rosemary, Mallow and Sambucus to gently cleanse and purify. Phase Two (milky) contains Ceramide III to soothe and calm.
This peach-toned emulsified formula:
Gently purifies skin, removing excess residue
Helps soothe and calm skin
Leaves skin refreshed and refined looking
Daily use recommended
Shake well and sweep on with a cotton ball.
Ultra luxurious formulas. Advanced anti-ageing technology. Breakthrough results. From the encapsulated purity of Ceramide Capsules to the skin-plumping, moisture-boosting benefits of our Lift and Firm formulas, Ceramide Skincare brings your skin the future of anti-ageing technology. It's a golden opportunity for your skin.