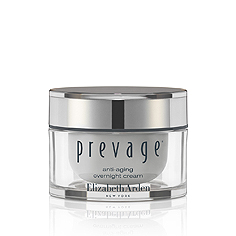 PREVAGE® Anti-aging Overnight Cream
Without a full sleep cycle skin's ability to fight premature ageing is compromised. Rest assured, PREVAGE® Anti-aging Overnight Cream can compensate.An intensive nighttime formula with encapsulated and time released Idebenone, Mega Complex-A and a blend of high performance moisturisers, it infuses skin throughout the night to boost its anti-ageing abilities and help enhance skin's own natural repair process. We can't give you a better night's sleep, but we can help you wake up with skin that looks repaired, refreshed and recovered.
PREVAGE® Anti-aging Overnight Cream is proven to help improve:
Resilience: Restores skin's natural resilience for a firmer look.
Dryness: Reverses dryness with intense hydration.
Radiance: Gives skin a bright, even toned, more radiant appearance.In a recent consumer test with PREVAGE® Anti-aging Overnight Cream, after 4 weeks*:
99% noticed smoother, softer skin
92% saw that their skin looked rested, refreshed, radiant and revitalised
84% reported a decrease in the appearance of fine lines and wrinkles
86% felt that their skin looked younger
78% saw a noticeable lift in the look of skin
84% saw more even skin tone and texture.
* Test conducted on 107 women aged 25-65.
Powerful Ingredients
Idebenone: This potent skin revitaliser, contained in all PREVAGE® products, is proven as one of the most powerful antioxidants to help prevent oxidation on the skin, a leading cause of visible skin ageing. Because the Idebenone in PREVAGE® Anti-aging Overnight Cream is encapsulated and time released, it is especially gentle and effective throughout the night.
Mega Complex-A: This effective vitamin-based blend complements the age-fighting effects of Idebenone. It includes Vitamin A Derivatives to smooth lines and wrinkles and retexturise; Lemon Peel Extract to soften the appearance of age spots and discolourations to give skin a brighter, more even toned look; Vitamin E to restore and condition skin and Colorless Carotenoids to enhance the benefits of Idebenone and promote firmness.
High performance moisturisers: During the night, skin is especially receptive to moisture and PREVAGE® Anti-aging Overnight Cream replenishes moisture reserves with Sodium Hyaluronate, Glycerine, Cocoa Butter and Shea Butter. This intensive hydration system works to attract and bind moisture into skin, for a fresh and rested look.PREVAGE® Anti-aging Overnight Cream comes in an innovative airless jar with a one touch dispensing system, customized for Elizabeth Arden, which keeps the product sealed and fresh.
After following the test usage directions, below, massage onto cleansed face and neck nightly after PREVAGE® Anti-aging Daily Serum. Avoid contact with eyes.Test UsageIf you have sensitive skin, eczema or a history of allergies, you may want to consult with your physician before your first use of PREVAGE® products. Before beginning to use PREVAGE® on a regular basis, apply a small amount of product (less than one pump) daily for at least three (3) days to a small area of skin on the forearm near the inner side of the elbow. If any itching, burning, redness, or swelling occurs during this trial period, wash the product off and discontinue use immediately. If no reactions occur, follow the Regular Usage instructions.