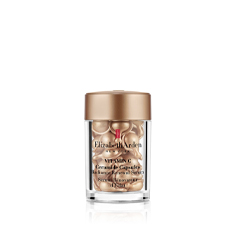 NEW

- Vitamin C Ceramide Capsules Radiance Renewal Serum - 30 Piece
The new capsule harnesses the power of our ultra-stable, ultra-potent Vitamin C and Ceramides to not only deliver optimal skin brightening, but also help nourish and strengthen skin's natural moisture barrier for smoother skin to prolong its glow. Together, these complementary ingredient technologies create a fusion of results that help visibly brighten, fight hyper-pigmentation and protect skin from free radical damage.
Each capsule is super-charged with a Vitamin C that is 178x more potent than traditional Vitamin C*, which typically dissipates after three hours. Using this ultra-stable Vitamin C, Vitamin C Ceramide Capsules offer maximum efficacy and protection against external skin aggressors. To complement skin's moisture barrier, the capsules are formulated with oil soluble Vitamin C, rather than traditional water soluble Vitamin C. This optimizes delivery to skin's surface as the oil in our skin is attracted to our oil-soluble Vitamin C. The combination of potency along with targeted delivery means the vitamin c is better able to do what it needs to do and get where it needs to go.
Encapsulated for freshness, formulated for potency, this biodegradable capsule instantly brightens the look of skin Working from the outside in to visibly diminish dullness, Vitamin C Ceramide Capsules deliver the perfect combination to boost and prolong radiance.
BENEFITS
Visibly Brightens and diminishes dullness and improves radiance and glow
Evens tone by minimizing the look of dark spots and discoloration for a more even-toned look
Protects against age-accelerating, skin-dulling free radicals that can lead to premature aging signs
Supports skin's natural collagen and elastin matrix for firmer skin
KEY INGREDIENTS
Vitamin C: Brightening powerhouse that visibly fights skin dullness and age-accelerating free radicals
Ceramides 2 & 3: Help protect skin from moisture loss and prolongs its skin's glow
Clary Sage: Helps soothe skin from the effects of environmental aggressors
Vitamin E: Works together with Vitamin C to protect skin against environmental aggressors and free radicals
Avocado, Sunflower Seed, and Olive Oils: Impart skin with moisturizing and skin conditioning benefits
Slowly open the capsule and squeeze 3 drops onto palm of hand. Apply to face morning and/or night and use remaining formula for neck and décolletage as needed.