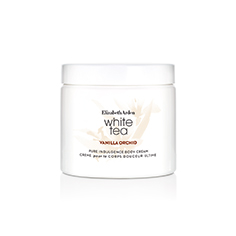 White Tea Vanilla Orchid Body Cream - 400ml
An opulent, innocent, alluring floral fragrance that brings you to a place of warm tranquillity now in a luxurious body cream. Wear on it's own or layer with your favourite White Tea fragrance.
White Tea Vanilla Orchid evokes the richness of a cool evening. Candlelight casts a warm invitation as shadows grow long outdoors. Vanilla infused with bright hints of lemon and quince. An invitation to warmth and comfort.
The White Tea Collection celebrates the pleasure of a life finely crafted. Discover the simple joy of defining a moment for yourself and savoring the personal reflection that comes with it. Tailor the world to your own private pleasure. Bottle the spirit, add a touch of serenity, and enjoy. White Tea invites you to share in the beauty that surrounds you every day.
"In creating Vanilla Orchid, I wanted to capture the moment of pure tranquility and comfort, like cozying up under a soft blanket. The fragrance is a warm indulgence of soothing tea, sensual vanilla orchid and woody musks that blend together for a smooth and serene escape."
– Perfumer Gil Clavien, describes the inspiration for White Tea Vanilla Orchid
KEY INGREDIENTS
Top Notes
Lemon Primofiore, Bergamot Essence, Quince, Elemi Oil
Middle Notes
White Tea, Gardenia, Dewy Jasmin, Vanilla Orchid
Base Notes
Ambrette, Orris, Vanilla Essence, Amberwood, Musk