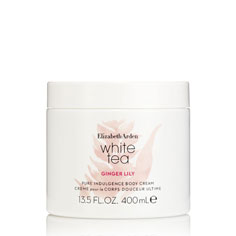 NEW

- White Tea Ginger Lily Pure Indulgence Body Cream – 400ml
This lightly scented body cream, infused with a blend of shea butter, antioxidants and white tea extract helps soften, moisturise and pamper dry skin.
White Tea Ginger Lily Body Cream offers a sensuous complement to any fragrance in the White Tea Collection. Layer to personalize the scent you love. Enriched with emollients to pamper skin. Enrich your day, indulge your night.
INGREDIENTS
Top Notes:
Sparkling Bergamot, Bitter Orange, Mandarin, Neroli
Middle Notes:
Warm Ginger Lily Blossom, Fresh Cut Ginger Root, Crushed Violet Leaves
Base Notes:
Tonka Bean, Earthy Mate, Soft White Cedarwood, Silky Musk
1. 1Based on an in vitro study of new PREVAGE® Anti-Aging Daily Serum 2.0 vs. existing Daily Serum.
2. 2Based on a clinical study of 32 women after 12 weeks.
3. 3Based on a consumer study of 55 women after one month.
4. 4When compared to alpha lipoic acid, kinetin, Vitamin C, Vitamin E and coenzyme Q10.
5. 5Based on a consumer study of 55 women after 2 weeks.
6. 6Reduction in volume when compared with the previous carton.