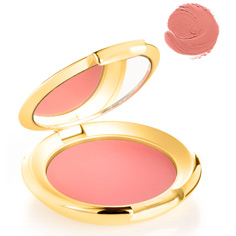 Ceramide Cream Blush
Luxuriously creamy and soft, Ceramide Plump Perfect Cream Blush glides on easily and blends evenly. It delivers weightless moisture and nourishes skin while adding a naturally long lasting flushed look to cheeks. Featuring our exclusive Ceramide Triple Complex and Vitamins A, C and E to create the ideal glow while providing anti-ageing benefits for your skin.
Lifts and contours the appearance of cheek area and jaw line
Sculpts and highlights, adds dimension
Enhances skin's glow
Adds naturally long lasting flushed look to cheeks
Provides a vibrant, dewy finish
Contains vitamins and anti-oxidants to energise and brighten the skin
Provides anti-ageing treatment consistent with Ceramide technology
Complexion looks smooth and soft
Non-drying
Oil-free
Avoid dark or heavy colours; the trick is to find a blush colour that's natural and neutral but still brightens and adds life to skin.
Where the science of skincare meets the beauty of makeup. This ultra-luxurious product line incorporates our Ceramide Plump Perfect skincare technology with the newest colour trends. These advanced makeup formulas deliver beautiful colour thats good for your skin and lasts all day. Plump up. Make up. Be beautiful.