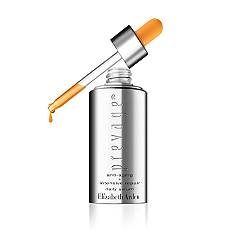 PREVAGE® Anti-Aging + Intensive Repair Daily Serum
Environmental stress causes ageing twice as fast. Our breakthrough correcting serum improves fine lines and lifting within 15 minutes and keeps working to counteract damage and visible ageing signs with our best anti-ageing technology ever. Chosen by 7 out of 10 women over the current market leader, PREVAGE® Anti-aging Daily Serum is destined to become everyone's new favourite. Our proven serum works immediately and over time to counteract environmental damage and visible ageing signs with a powerful combination of Idebenone and skin revitalising technology.
PREVAGE® Anti-aging Daily Serum works by helping support your skin's natural collagen matrix. And, thanks to arazine -- an exclusive new molecule -- it actually SOOTHES your skin while protecting against free radicals and reducing signs of ageing caused by chronic inflammation. With continued use, it significantly reduces the visible appearance of age spots, wrinkles and even deep lines.
After 15 minutes, 63% of women showed a significant immediate improvement in fine lines, radiance, and luminosity, while 74% showed a significant immediate improvement in lift.
After 4 weeks, 98% of women saw a significant improvement in skin smoothness and softness, 94% saw a significant improvement in radiance and luminosity, 92 % felt it brightened the look of skin.After 8 weeks, 94% of women saw an overall improvement in their skin's appearance and felt that skin looked calm and soothed.
Proven to enhance the performance of other PREVAGE® treatment products.
For optimal results, use as the first step of your PREVAGE® regimen day and night.
Idebenone Ester:
The single most powerful antioxidant*, with an EPF® rating of 95 out of 100. Our proprietary Idebenone Ester technology is an advanced delivery system that fuses Idebenone with a skin-compatible ester to provide a timerelease reservoir of Idebenone within the skin. The result is an effective and more gentle level of performance. *For face products, environmental protection is against oxidative stress due to sun, smoke and pollution, with Idebenone compared to alpha lipoic acid, kinetin, vitamin C, vitamin E and coenzyme Q10. EPF® and Environmental Protection Factor™ are certification marks and trademarks owned by Pharma Cosmetix Research, L.L.C.
Thiotaine:
An antioxidant that helps protect surface skin cells from free radical damage; also works with Idebenone, providing protective effects.
ARAZINE AND BLEND OF PANTHENYLTRIACETATE (PTA) AND NARINGENIN:
Fights acute Inflammation; Soothing and redness reduction in <15 minute Reduces acute and chronic inflammation that accelerates the visible signs of skin aging.
BLEND OF MICA AND SILICA PIGMENTS, SILICONE and BoNT-L PEPTIDE, RETINYL LINOLEATE AND ORGANIC SILICON DERIVATIVES: Softens the appearance of fine lines; Reduces fine lines & wrinkles; Help relax wrinkles with BoNT-L peptide; Stimulates collagen/elastin with RetinylLinoleate; Cell regeneration and renewal with Organic silicon derivatives.
MICA AND SILICA PIGMENTS,SOFT FOCUS SILICONE BLENDS, AND ENCAPSULATED PEPTIDE:
Improves skin's radiance; Reduces hyperpigmentation & evens skin tone; Encapsulated peptide inhibits melanin syntthesis.
BOTANICAL EXTRACT (CORK OAK) AND POLYIMIDE-1 and ORGANIC SILICON DERIVATIVES AND BIOMIMETIC TETRAPEPTIDE:
Improves skin firmness; Boosts collagen synthesis.
To use: Before unscrewing the dropper, push down on the dropper button for 3 seconds. Slowly release button and unscrew dropper. Next, slowly press button to dispense the premeasured amount of product. Massage onto cleansed face 1- 2 times daily. Avoid contact with eyes. Discontinue use and consult a physician if irritation of rash appears. For external use only. Do not ingest. Keep out of reach of children.