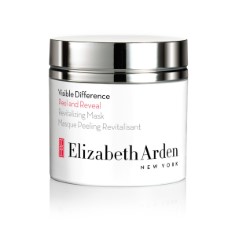 Visible Difference Peel & Reveal Revitalizing Mask
Exfoliating and retexturising your skin is one of the easiest and most satisfying ways to instantly brighten your complexion. This at-home, spa-inspired mask works in 15-20 minutes to reveal skin that's smooth and glowing.
20 minutes can make a big difference in your skin's appearance. That's what we've learned over the past 100 years of spa science and the proof is in this at-home mask. Just smooth on to cleansed skin, relax for 15-20 minutes while mask dries, then peel it off to reveal skin that looks truly revitalised, smooth and glowing. You'll love how this mask minimises the look of pores and fine lines. Enjoy using it 1-2 times weekly.
BEST FOR: ALL SKIN TYPES (But especially recommended as an addition to the Oil-free Regime.)
KEY INGREDIENTS:
• Cabernet Grapeseed Extract: This powerful antioxidant helps brighten and even out your skin, while also providing protection from damaging environmental effects.
• Botanical Complex: This optimised blend of naturally derived alpha and beta hydroxy acids calms, soothes and firms the look of your skin.
• Glycolic Acid: A powerful, yet gentle retexturiser, this alpha hydroxy supports natural cell turnover, exfoliates and fortifies skin's appearance.
• Salicylic Acid: A beta hydroxy that exfoliates dry surface flakes, smoothes skin.
• Natural Sugar Extract: Supports alpha hydroxies in exfoliation for smoother, softer skin.
• Aloe Vera: This plant extract soothes, softens and moisturises skin.
To use: First cleanse and tone your skin. Then use applicator to apply a thin, even layer over your entire face, avoiding eye area. Initial tingling sensation may occur. Allow to dry completely, 15-20 minutes. To remove, gently peel upward, beginning at your jawline. Rinse off excess with warm water. Enjoy 1-2 times per week.
Warning: Avoid eye area. If product gets into eyes, rinse thoroughly with water. If discomfort persists, consult an eye doctor immediately.
Your daily skincare regimen can make a Visible Difference.
Skin types are as individual as personalities and can change with the seasons, diet, and stress. 100 years of Elizabeth Arden spa experience has taught us that nothing is more beautiful than beautiful skin. Whether your skin is dry, oily, or at times both, the Visible Difference line of skincare essentials gives your skin the hydration it needs to appear healthy and radiant.
Specifically designed and customised for each unique skin type - combination, oily and dry - Visible Difference is a four part daily treatment process that cleanses, tones, treats and moisturises. See the difference a skin-specific, spa-inspired daily regimen can make in your skin today and everyday.