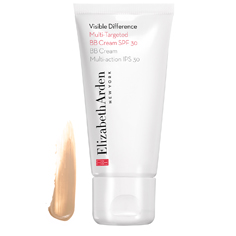 Visible Difference Multi-Targeted BB Cream SPF 30
This protective daytime BB Cream provides high protection from sun and pollution as it instantly hydrates and brightens skin. Imparts a smooth, even toned look and a soft, translucent glow. Achieve balanced, healthier-looking skin with improved tone and texture with continued use. Suitable for all skin types. In 3 skin enhancing shades.
Clinically and dermatologist tested.
This all-in-one beauty balm is the ultimate balancing act - blending protection and perfection for healthy-looking skin. Marrying the brand's 100 year skincare expertise with the natural coverage of a sheer foundation, the formula instantly hydrates, brightens, primes and protects skin for a flawless-looking complexion.
In three skin enhancing shades:
• Shade 1: ideal for very fair complexions with pink undertones
• Shade 2: ideal for fair-to-medium complexions with golden beige undertones
• Shade 3: ideal for deep complexions with golden undertones
Suitable for all skin types: targets and treats user's specific—oily, combination, dry—skincare concerns for an even, luminous complexion.
Formulated with hyaluronic acid and key anti-ageing ingredients: skin brightness, texture, and tone are visibly improved immediately and over time.
Lightweight buildable formula: easily blends into skin to provide priming and long-wear coverage.
Key Ingredients:
Visible Difference Multi-Targeted BB Cream SPF 30 is powered by a blend of skin-perfecting ingredients:
• Skin-enhancing Pigments: impart a natural looking glow
• Vitamin C Derivative: antioxidant that fights free radical assaults while brightening the skin
• Biomimetic Peptide: an antioxidant to help protect from oxidative stress that leads to signs of aging
• Licorice Extract: brightens the look of skin.
• Hyaluronic Acid: helps retain skin's moisture and minimize the appearance of fine lines and wrinkles
• Allantoin: provides soothing, benefits to the skin
• SPF 30: provides skin with UVA/UVB broad spectrum sun protection
Smooth this cream onto your face, neck and décolletage.
To use: Apply to cleansed face and throat.
As always, you'll get best results if this is part of a consistent, daily Visible Difference essential regimen.
Your daily skincare regimen can make a Visible Difference.
Skin types are as individual as personalities and can change with the seasons, diet, and stress. 100 years of Elizabeth Arden spa experience has taught us that nothing is more beautiful than beautiful skin. Whether your skin is dry, oily, or at times both, the Visible Difference line of skincare essentials gives your skin the hydration it needs to appear healthy and radiant.
Specifically designed and customised for each unique skin type - combination, oily and dry - Visible Difference is a four part daily treatment process that cleanses, tones, treats and moisturises. See the difference a skin-specific, spa-inspired daily regimen can make in your skin today and everyday.