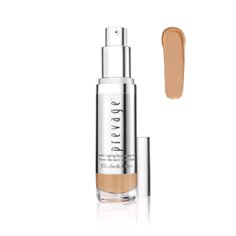 PREVAGE® Anti-Aging Foundation SPF 30
The power of PREVAGE® now in an anti-aging foundation. Our unique Idebenone complex protects skin from environmental assaults to diminish visible aging signs. Vitamin C and key anti-aging ingredients correct skin's appearance for a firmer, clearer look. Moisture-rich hydra-pigments flawlessly even skin tone for luminous skin perfection that lasts all day.
Oil free.
For normal to dry skin
Light to medium coverage. Naturally luminous finish.
Introducing a breakthrough in anti-ageing makeup. Infused with the most powerful antioxidant, Idebenone1, this exclusive anti-ageing complex continuously repairs skin's appearance day after day for the ultimate in youth renewal. Instantly, skin looks perfected - smooth, firm and naturally radiant.
The super fluid liquid foundation creates a naturally luminous complexion with all-day wear. The lightweight formula provides medium coverage, creating a beautiful flawless look. PREVAGE® Foundation is infused with Idebenone1 — the most powerful antioxidant — and Hydra-Pigments to instantly blur skin's imperfections while helping to seal in moisture for a radiant look. PREVAGE® Anti-ageing Foundation addresses anti-ageing concerns by helping to reduce the appearance of fine lines and wrinkles throughout the day.
Immediate Results*:
97% of women said the makeup glides on evenly and blends effortlessly
96% of women felt the makeup gave them natural looking coverage
95% of women saw an immediate improvement to skin's overall appearance
93% of women said it blurs the appearance of fine lines, wrinkles and imperfections.
91% of women did not feel like they were wearing any foundation.
87% of women said their skin looked radiant.
24 Hour Results*:
Prevage® Foundation is so good for your skin that women who slept with it on overnight experienced amazing results: The foundation lasts 24 hours and upon waking up skin was clear and felt fresh, hydrated and comfortable with a healthy glow.
Key Ingredients:
Hydra-Pigments: Encapsulated, moisture-rich pigments meld with the skin creating a shield to help skin retain moisture while delivering precise long-wear color, and blurring imperfections.
Idebenone: Our exclusive antioxidant helps protect skin from oxidative stress and environmental assaults to help minimize the visible signs of ageing.
Antioxidant Complex: A potent blend of highly effective antioxidants including Idebenone, Thiotane, Ferulic Acid, L-Carnosine and Green Tea Extract that help protect skin from environmental assaults to help minimize visible signs of ageing, and keep skin looking healthy and luminous.
Vitamin C and L-Carnosine: Boost skin's own natural collagen, increasing the skin's elasticity, reducing the look of fine lines and wrinkles, and improving the clarity of the skin.
*Based on a US consumer study of 110 women ages 30-55 after 15 minutes and 24 hours of wear.
1When compared to antioxidants in face products, Idebenone in PREVAGE® surpasses ferulic acid, alpha lipoic acid, kinetin, vitamin C, vitamin E, ubiquinone and resveratrol in environmental protection against oxidative stress due to sun, smoke and pollution.
Rebecca Restrepo, Elizabeth Arden's Global Makeup Artist, "When applying PREVAGE® Anti-Agiing Foundation SPF 30, begin at the center of the face, where the most discoloration occurs, and then blend outward to create an even and balanced complexion. The heart-shaped end of the foundation brush fits the natural contours of the face, while the flattened tip brush at the opposite end is great for concealer and difficult to reach areas around the nose and the inner eye. The product that is left on the brush can be used to erase makeup mistakes."