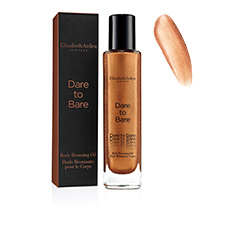 Dare to Bare Body Bronzing Oil, Limited Edition
Bronzed from head to toe. This lightweight, luxurious bronzing oil illuminates skin all over with a shimmery sun-touched glow. Skin is smooth and glowing leaving the ultimate summer-bronze look.
Seamlessly impart skin with subtle, head-to-toe radiance with this oil that illuminates skin with a veil of golden shimmer. A luxurious oil blend, this lightweight formula includes hydrating ingredients and mica that help to blur fine lines and wrinkles for a warm, youthful glow. Infused with the scent of vanilla and coconut, each application instantly transports you to the tropics.
Key Ingredients:
Sunflower Seed Oil: Rich in Linoleic Acid, this oil helps maintain the skin's barrier and decreases moisture loss.
Jojoba Oil & Macadamia Oil: Keep skin feeling hydrated and soft.
Meadowfoam Seed Oil: Helps balance skin's oil levels for a smooth appearance.
Pomegranate Seed Oil: Contains Omega 5, a fatty acid that helps soothe and protect skin.
Vitamin E: A powerful antioxidant that helps protect and nourish skin with moisture
.
Rebecca Recommends: "For a sexy and luminous look, smooth oil over areas that catch light, especially the clavicle, shoulders, arms, and legs. Try mixing with cream blush and applying to the apples of your cheeks for an extra shimmering effect."