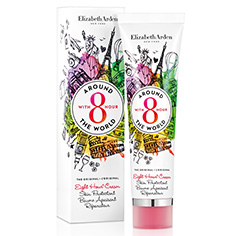 Eight Hour® Limited Edition Skin Protectant
Loved by beauty experts all around the world, Eight Hour® is a trusted and essential travel companion. Its multi-tasking formula works wonders to shape brows, add shine to cheeks, soothe dry hands and smooth cuticles and nails. This limited edition design celebrates Eight Hour's versatility and wide array of adventure-ready uses, all around the world. TSA-approved sizes are perfect for a purse or carryon.
Benefits
No time for manicures?
Apply daily for ultra smooth nails and cuticles.
Jet-lagged, dehydrated skin?
Pat onto face to seal in moisture.
Exhausted feet from sightseeing?
Massage into feet for comforting moisture.
Dry lips from changing climates?
Moisturizing ingredients rehydrate chapped lips.
Island-hopping with frizzy, brittle hair?
Smooth strands and moisturize dry ends.
No time for your brows?
Define, neaten and smooth for the perfect arch.
Exploring in the cold?
Protect skin from the effects of extreme weather and windburn.
Rough hands from toting luggage?
Deep condition palms and fingers.