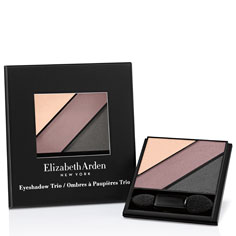 Limited Edition Eye Shadow Trio
The new limited edition Eye Shadow Trios feature trendy, matte colours for infinite looks, from natural to smokey.
The smooth, powder shadows can be applied wet or dry to achieve the desired level of colour intensity. The vitamin enriched formula is ophthalmologist tested.
Key Ingredients:
Vitamin E: Conditions and nourishes lids with moisture.
Spherical Complex: A blend of four silky, spherical ingredients that impart a bouncy, cream-like texture to easily glide across the lids on application. Further, their soft focus effects help to blur imperfections.
Retinyl Palmitate: Creates a smoothing effect, blurring the appearance of fine lines and wrinkles on lids.
Mica Based Pearls: Mineral pearls of mica and titanium dioxide help reflect light and diffuse sparkle to create a multidimensional effect on eyes.
GLAM IN A FLASHHighlight: Starting from the inside applying all along the bottom lid until fading on the outside. Apply along the bottom lash line fading to the middle. Enhance: Starting on the outside bottom lid just on the outside corner eye fading to where the eye color begins. Using remaining color on the applicator adding a little bit to crease outside fading in. Add enhance shade along the bottom lash line fading in a little bit past the middle.Define: Use on the outside corner lash line fading in towards the eye. Add to the edge of lash line on the very corner of the bottom lash line.