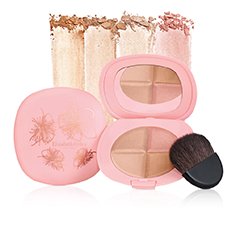 Limited Edition FourEver Glow Highlighting Powder
The unique four quad palette captures and illuminates the sun as it hits your skin. Use each shade separately or swirl together for an optimal glow.Shade: Highlight
Iridescent, reflective pearls create a natural highlight and perfectly radiant complexion.
Key Ingredients:
Mica-Based Pearls: Create an iridescent effect on skin for a radiant glow.
Mineral Mica and Silica: Scatter light helping to create a radiant complexion.
Hyaluronic Acid: Provides a moisturising effect.
1. Highlight: (Shade 1) Apply down the center of nose starting at eye level straight down almost to the tip of your nose & apply onto the edge of the cupids bow.2. Blush: (Shade 2) Apply on the apples of cheeks starting from the edge of the eye to center of the eye along the highest point of the cheek bone.3. Enhance: (Shade 3) Apply above and below the arch of the eye brow and dusting from where the eye bone and cheek bone meet towards hairline.4. Glow: (Shade 4) Apply starting under the apples of cheeks fanning in an upward motion and slightly dusting along the hairline and eye lids.
Dreaming of escaping the city and entering a bronze state of mind? Perfectly enhance your inner and outer glow with Elizabeth Ardenメs NEW Bronze Vibes Colour Collection. The Beautiful Color Liquid Lip Gloss glides on for high shine with lips that feel moisturised. For kissed by the sun skin, the Limited Edition Dare to Bare Bronzing Gel Pearls enhance skinメs overall colour and glow. Get optimal radiance with the Limited Edition Fourever Glow Highlighting Powder when used together or separate to highlight, enhance, blush, and glow. Run free and let your most brilliant self glow on!