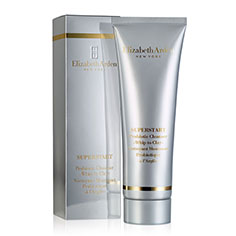 SUPERSTART Probiotic Cleanser -Whip to Clay-
Harnesses the power of probiotics to cleanse skin and help support its natural defenses for a radiant, healthy look. This whipped mousse cleanser transforms into a mineral-rich clay to remove dirt, impurities and makeup without stripping, drying, or leaving an oily residue while also supporting skin's natural hydration. With water, it foams into a soft lather, leaving skin feeling soft, smooth and primed for the next step in your skincare regimen.
Size: 125ml
Key Ingredients:
Probiotic Complex, known to help support skin's natural defenses.
Combination of Pink & Green Clays, act like magnets to unclog pores and remove impurities without drying skin.
Glycerin, a powerful humectant that helps skin retain moisture.