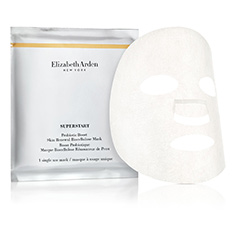 SUPERSTART Probiotic Boost Skin Renewal Biocellulose Mask
4 masks, 18ml each. Delivers double the probiotic power of SUPERSTART Skin Renewal Booster to support skin's natural defenses and improve skin's resilience. The luxurious biocellulose mask infuses skin with a concentrated formula that includes hyaluronic acid and a probiotic blend to help optimise its natural renewal process for radiant, smooth, healthy-looking skin in just one treatment.
Key Ingredients:
2X Probiotic Complex, contains double the powerful probiotic blend featured in SUPERSTART Skin Renewal Booster, a complex that provides the skin with complementary probiotic action that not only triggers an improvement in the appearance of the skin with a nourishing and smoothing effect, but also optimises skin's microflora and its natural defenses.
Glycerin, a powerful humectant that helps skin retain moisture.
Sodium Hyaluronate, the sodium salt of hyaluronic acid, nature's moisture magnet.

Blend of Ceramides 1, 3, and 6, Cholesterol and Phytosphingosine, essential lipids found in the skin's barrier that help repair and replenish ceramides.
While other sheet masks can be coarse and loose on your face, the biocellulose mask is made with a natural fiber derived from 100% fermented coconut water. The super-fine fibers (approximately 1,000x thinner than human hair) allow the mask to fit snugly to facial contours, almost like a second skin.