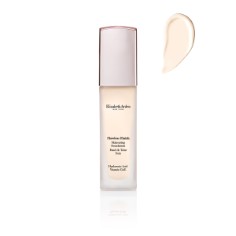 NEW

- Flawless Finish Skincaring Foundation
Skincare meets skin perfection in a nourishing foundation with hyaluronic acid. A fresh take on flawless, so skin looksラand feelsラlike your version of perfect. Buildable coverage lasts up to 24 hours. In 40 shades.
Discover a fresh take on flawless. Skincaring foundation with 24-hour wear in a nourishing makeup. With hyaluronic acid, Vitamin C and Vitamin E to comfort and condition, skin looks healthy, even-toned, brighter, younger, suppleナbecause flawless is how your skin feels, not just how your skin looks.
Longwearing, lightweight, natural-finish coverage keeps up with your lifestyle. Resistant to heat and humidity, the foundation controls shine, wonメt settle into fine lines and poresナand lasts up to 24 hours. Take the complex out of your perfect complexion. Buildable coverage in 40 shades for every skin tone lets you customize flawless your way.
Made without fragrance and parabens. Non-comedogenic, dermatologist-tested